HOME PAGE updated November 21, 2016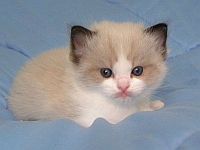 Our kittens!
Welcome to my Site!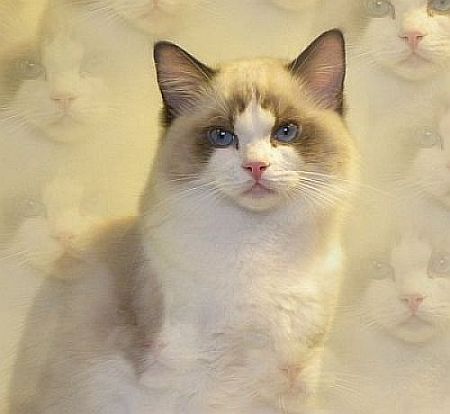 RAGATOOTIE is a CFA registered cattery located in Central Florida. We are a small closed in-home cattery dedicated to the Ragdoll Breed. Our priority is continuing to maintain excellence in health, type and temperament. This is a hobby for us and we have been showing and breeding since 2007.
In general, the Ragdoll is a beautiful and very laid back cat that is well balanced with no extreme features. They are slow maturing, reaching full coat and color at about 3-4 years of age. They are an affectionate and intelligent cat giving the impression of graceful movement and subdued power, striking in appearance. Each one will have its own distinct personality, likes and dis-likes. They have dog like qualities, like meeting you at the door when you come home and following you from room to room, and some may even play toss or fetch.
Most of my cats came from Rebecca Wixson Villalona of Raggledazzle. She closed her cattery spring of 2011 to persue other dreams in her life. She has been a good friend and I will miss her at the shows. As always, best wishes to you Rebecca!






(Ragdoll Breed Standards PDF, 2.4MB)
www.ragdollkittens.ca/ragdoll_breed_standards.pdf



RagatootieRagdolls
Located in Central Florida
Ragdoll Cats and Ragdoll Kittens by Ragatootie Cattery
Breeder of Ragdoll Kittens and Ragdoll Cats.

Ragdoll kittens/Ragdoll cats/Ragdolls in Florida/Florida Ragdolls/Rebecca Ragdolls/Florida Ragdoll Breeder/Ragdoll Breeder Florida/Ragdoll Breeders Florida/Ragdolls Florida/Ragdoll cats+Florida/Ragdoll cat breeders in Florida/Ragdoll Kittens Florida/Ragdoll Photo/Ragdoll kittens for sale/Beautiful ragdolls for sale/Ragdoll cats and Ragdoll kittens/we have kittens/raggledazzle/
.
.